We all encounter that one enemy. You know, the one that'll make you think "what the fuck is that?" until it walks up and attacks you. Then you realize: "I guess that's my enemy". Today, I'm gonna make a Top 10 list about those guys.
What am I looking for:
any enemy, that can attack you and be killed (don't expect to see Slenderman on this list), that looks or acts just downright bizarre or that's that'll leave you confused and ask yourself "Why?" just by encountering it. And just for the sake of time, I won't be including the enemies from any of those bizarre Japanese shooters. This is SmirkyTrick, and here is 10.
10) Warlus (Elder Scrolls: Skyrim)
Now when it comes to the creatures of Skyrim, I usually think of dragons, wolves, giants, hell even the mudcrabs seem to fit in the environment. But the one animal that truly baffles me is the Walrus. Why is there a fucking Walrus? Whenever I think of a game with knights and wizards, walruses aren't the first thing to come to mind. Yes, I know their fat is pretty useful, and I'm fully aware that there are actual types of walruses that do live in lakes. But if you're a game programmer, why put a slow blubbery walrus in a game filled with knights & dragons?
9) Kewletts (Raze's Hell)
Now here's an underrated game that deserved more attention for its creative contrast. You have your main character with his serious design, and then you have your enemies with their cartoony appearances. Your enemies in this are the cutsy wutsy soldiers called the kewletts. The fact that this game requires you to rip their adorable faces off is more than satisfying. And there is nothing that can relieve your stress like providing a cute creature with a gory death.
8 ) The Great Mighty Poo (Conker's Bad Fur Day)
This is an opera singing pile of shit. What more is there to be said? I'm just going to assume that you guys know who this is and just leave it at that.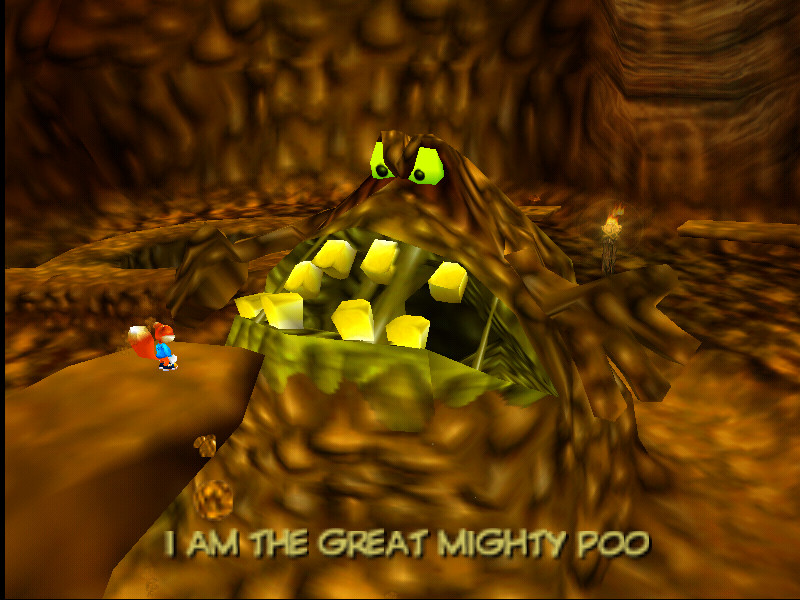 7) Creeper (Minecraft)
This is an odd creature. First off, this creature's coding was born from a pig. Another thing is the fact that they don't make a sound when they run up to you. Except for the sssshhhhh sound, but by the time you hear that, it'll be too late. Also, for some unexplainable reason, they explode. No matter what, whenever it sees you, it'll go all kamikaze and blow you up. Yeah these guys hates you so much, that they will be minding their own business one moment, and the next thing if they ever saw you, it be more than willing to throw its life away just to kill you, or at least destroy your house. Why do these green guys hate us that much? Damn.
6) Negative Man (Mother 3)
There are many weird and bizarre enemies in the Earthbound series, some that are unoriginal, some that gave us nightmares, even some that made us feel awkward after fighting them. But there is one enemy that completely stood out in my opinion. That enemy is Negative Man. Yes, he looks like Spongebob Squarepants, but what really makes him stand out is his fighting strategy. He gets depressed and just downright give up. Yes, that is his strategy. Negative Man will also beg you to kill him to end his suffering. This was a game for kids, and there's an enemy begging for death. Also worth mentioning is that it's almost impossible to lose against, and when you do beat him, you'll get that
Negative Feeling
. HA Ha HA…. And now I'm sad.
5) The Sun (Super Mario Bros. 3)
Yes the freaking sun. Aside from being the leading cause of skin cancer, he'll also remove himself from the center of the universe just to kill Mario. Now if you were playing Super Mario Bros. 3 for the first time, the sun will always kill you on the first try. Why? Cause we just assume that he was just part of the background on the desert level. And then, Surprise MotherFucker! How he manages to kill 1 Italian man and avoid destroying the entire planet is beyond me.
4) Psycho Mantis (Metal Gear Solid)
Aside from the BDSM giddup, Psycho Mantis is unusual for one specific reason. This guy was freaking psychic. He was fully aware that he can make your controller shake and he can tell what games you have been playing. For its' time, this was some freaky and impressive stuff. And that freaked a lot of people out.
3) Scary Nurses (Silent Hill series)
These scary bitches were terrifying. But what really make them unusual is that they have nice legs and hot bodies. They were scary, but sexy…… Am I the only one that thinks that?.......uhhh…. MOVING ON!!!
2) Gluttonous Monster (Dante's Inferno)
And we move from sexy to… what the fuck?.....blegh… Blech…..ugh… grotesque. These abominations, from Dante's Inferno have a puke attack and a pooping attack. Yeah, a fat naked chick with a pooping attack. And now you have that image in your head.
1) Bonita Zakos (Stretch Panic)
If you heard of stretch panic, than you probably know what I'm talking about. If you don't, let me tell you what the Bonita Zakos is. A Bonita Zakos is a woman with SUPER BOOBS!!!! Yes, Super Boobs. These women are actually demon that use their tits to attack, and they also use their melons to fly around….. Since when can boobs do that? And it gets even more awkward, in order to destroy them, you have to pinch or stretch their backsides, like a gentleman. And more than likely you'll end up pinching their protective mountain peaks. Yeah…. That's why these boobs with legs are #1.
Plz rate and/or comment. And plz feel free to discuss, or suggest another idea for a top 10 list. Thank You!