So Season Five of the Venture Brothers started off with a bang but how does the second episode hold up to the kick-ass hour long premiere? Well, pretty damn good actually. We start off with the Ventures enjoying a nice breakfast together except for Dean who has taken his new goth, rebellious attitude to the "Vegetarian" level. After their meal is interrupted by a US Marine Raid, Venture is presented with a new mission by long-time side character General Manhowers. According to the General, one of Dr. Venture's creations has gone rogue and it is now up to Dr. Venture to fetch the creation and set it straight – or at the very least, destroy it.
What is this creation you might ask? Why, to my pleasant surprise, it is none other than Venturestein!
That's right! Venturestein has returned and what's worse is the fact that he has gone rogue. So Hank, Dr. Venture, and Sgt. Hatred must go south of the border to flush Venturestein out. Ah, but what's this? There seems to be someone missing from this line-up. Yes sir, it would appear that Dean refuses to join his family on their little outing. He decides to instead remain at home to work on H.E.L.P.E.R. who was turned into a giant walking-eye of death during Season 4.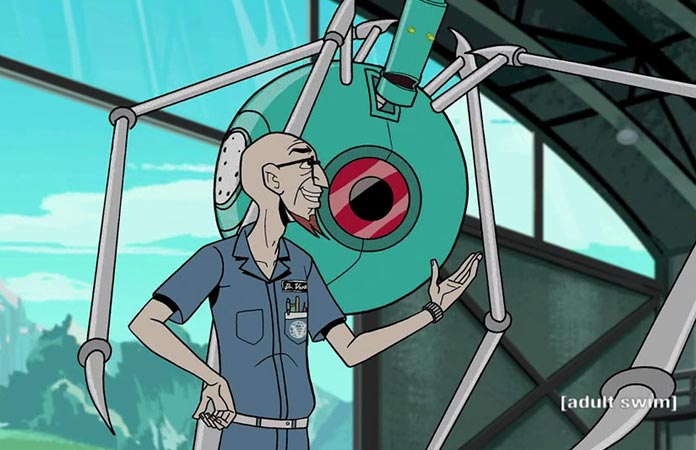 Poor H.E.L.P.E.R. has been seriously depressed since becoming a walking eye so Dean decides to put H.E.L.P.E.R. back together. Before he has a chance too, however, he is interrupted by a woman who is running for office. When she learns that Dr. Venture (who apparently votes) is no longer in the country, she takes her copter down south of the border in order to fetch Venture least she lose his vote. Talk about dedication!
Back to the gang, Dr. Venture, Hatred, and Hank are flying over the lush forests of Central America when they are attacked by a Pterodactyl. Hank decide to bail out of the jet after mistaking a jetpack for a parachute while Hatred shoots the Pterodactyl dead. They (Doc and Hatred) crash land in the jungle. They are soon captured by Island of Doctor Monroe-like animal-soldiers and brought before Venturestein who apparently has become this Che Guevara-style guerrilla leader. It would seem that Venturestein discovered the purpose for his resurrection was to be used as a suicide solider for the US Army. He escapes from the marines and through the help of local, builds a resistance for creatures used as scientist experiments. He is trying to get governments to recognize the rights for Science Freaks. Unfortunately his minions are not too pleased that he has spared Doc and Hatred and a rebellion begins to form.
A few miles away Hank wakes up in a coffee bean plantation. Thinking that they are berries, he begins downing them in rapid numbers. He soon slips into a delirium where he believes that he is "crapping the Old Hank Out" to make room for the "New Hank." He stumbles into an old temple and mistakes a Mayan (?) diety for a giant bat.
Can you guess what happens next? Yup. Hank becomes Batman.
No. I am serious. Hank becomes Batman. Not only does he become Batman, but he is actually VERY good at being Batman! He is able to take down several of Venturestein's soldiers – disabling and even KILLING a few of them. He utilizes smoke bombs, "Bat-r-rangs", booby traps, and giant logs to take the soldiers out. Holy crap this part of the show was amazing! After seeing Hank pass all of S.P.H.I.N.X's "tests" in season 4, seeing him actually hold his own against killing machines is pretty bad-ass.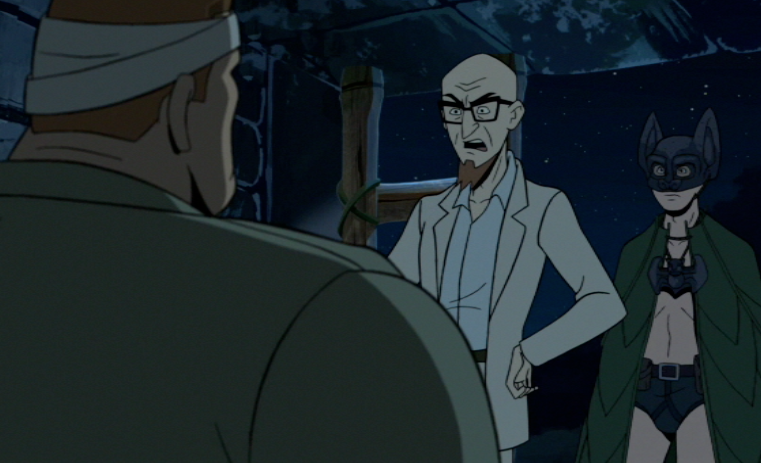 On the other side of the world, Dean's work with H.E.L.P.E.R. is once again put on hold. Doc sends a distress single out to the perky little robot sending it racing through the streets in order to save everyone. This is the end of Dean's story-arc until the end of the episode. It wasn't much but it was still pretty neat seeing Dean fight against what it means to be a Venture Brother.
Back to Venturestein; his minions are growing more and more irritated with the walking-corpse's plan to unite all the Freaks. Before they have a chance to rebel, Hank's Bat shenanigans send them back into the jungle allowing Hank to free Dor and Hatred.
Now let me pause and rewind just a bit. Before Hank saves his family, we get a very chilling glimpse of Hatred's life as he suffers through night terrors. Through flashbacks, we discover that Hatred was in an experimental program for Super Soldiers and it was soon after he was injected with this serum that he violently attacked a young boy. We don't see what he actually did to the kid, but the kid's underwear (or shirt) was hanging out of Hatred's mouth. Hatred's pedophilia has always been a long running joke in the series but this is the first time we've actually see him physically ATTACK a child and it was actually very shocking. For that one moment my view on Hatred wavered. He wasn't being this gentle perverted old man but something of a monster and it was a quick, very serious moment for the episode. It really makes me hungry to see more of Hatred's background throughout the rest of the season.
Alright! Let's get back on track! Hank saves Hatred and Doc (using a giant hollowed out crab as his Bat-Mobile). They escape to the beach where H.E.L.P.E.R. and that congresswoman show up to keep everyone from being slaughtered from Venturstein's freaky army.
Before everyone lives happily every after, several boats shore up containing more freaks who wish to join Venturstein's paradise thus proving to Venturstein's minions that he was right all along in wanting to make a new world for freaks.
Oh and the congresswoman explodes at the end to which Doc exclaims "He can fix it."
After the credits roll, we see that Dean has returned H.E.L.P.E.R. back to his normal self, Hank and Durmot are still working on their band, and the undead congresswoman is preaching for the sanctity of science-freaks.
End Episode.
Let's go down the list!
Venturstein is now a leader of an underground guerrilla force who wants freedom for science-experiments
Dean is now a vegetarian and he refuses to join the Venture family on missions
Hank can actually kick a lot of ass when he wants too. Plus he is addicted to caffeine.
Part of Hatred's back story has been shown and it is very dark and violent.
H.E.L.P.E.R. is back to normal
Easter Eggs/Trivia:
The man who helps Venturstein is the child in the child-labor shoe factory video Doc used to educate Venturstein with.
There is a feral Oompa Loompa in Venturstein's army.
One of the freaks at the end of the episode are the 3 teenagers from Human Centipede
Venturstein makes sneakers in his spare time.
Venturstien still has the batman mask he took from Hank in order to pick up prostitutes with Brock.
Two of the zombie soldiers used as suicide bombs are clones of Hank and Dean.
comments powered by Disqus